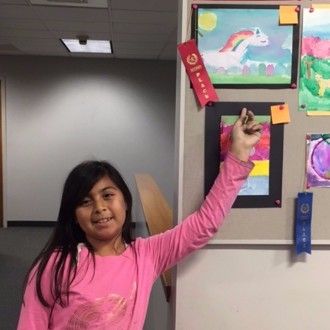 Throughout the year our Club members have the opportunity to work with a variety of artistic mediums: monochromatic, multi-color, pastel, watercolor, oil and acrylic, print media, mixed media, collage, sculpture and group projects. At the end of the year, the best pieces of art are selected in each medium from our four Clubhouses in Ventura, Saticoy and Oak View. Following the selection process, these pieces are then put on exhibit at the E.P. Foster Library in January. Judges, chosen from our community, select the 1st place winners; who then go on to compete with other Clubs in what is known as the Boys & Girls Club of America National Fine Arts Exhibit. The intent of the program is to introduce local kids to different mediums of art and to give them a healthy alternative for personal expression and recognition.
Beyond the competition aspect, which is fun for parents and kids alike, we realize that art is subjective and the program itself is really meant to focus on the broader scope of art education and recognize the creativity of our kids. Lea Cobb, Branch Manager of the the Bill LeFevre Center Clubhouse, said that "the program teaches kids to see the nuances in art and to not look at mediums like pastel as just a piece of chalk, but a tool that when utilized with finesse and perspective can unlock something much greater." Art can in many ways create new space of mind, imagination and perspective, as well as, an escape or review of the human condition. Sometimes, it can open a fresh window into our life and into the lives of those around us; which in many ways, may encourage all of us be a little more cognizant of how our shared experience fits into the broader tapestry. Come join us each January and take part in the excitement!
Message From: Peter McClintock, Our New Development Director

On behalf of the Boys & Girls Club of Greater Ventura, I would like to thank the Board of Directors and our CEO for selecting me as your new Director of Development. As a resident of Ventura, I am jazzed to be here! I say this as Sinatra plays in the background, no pun intended. Interesting enough, the Robert Addison Center is just a couple blocks from where I live.
I have had a chance to visit all our Clubs during my first couple weeks here and get a sense of the kids we serve. I saw a lot of art projects, basketball games, classes applying LEGOs and mathematics; as well as, kids learning how to create their own music and much more. I saw our kids having fun and getting a healthy meal at the end of the day. I also saw that as much as Boys & Girls Club continues to deliver our program and services to our community, there are still challenges and holes needing to be filled. I saw first-hand how our Clubs, just blocks away from local gangs, are the only barrier standing between our kids and the alternative. There are waiting lists of more kids needing to be served in places like downtown and building repairs needing to be made. Speaking to those concerns, it is essential that our support is ongoing to keep the doors open; to keep our Clubs safe; to provide and retain some of the best and most dedicated staff and volunteers—who make this their passion to serve kids and teens. Right now, 97% of our youth in the city of Ventura are on track to graduate high school, saving taxpayers an estimated $16 for every $1 invested. This is pretty incredible, seeing that our Boys & Girls Club is solely funded through grants and local community support. That is why each month, I will be sending out a newsletter— to keep you up to date on the impact your support is making here in Ventura. Stop by our main office anytime; to find me, just follow the music!