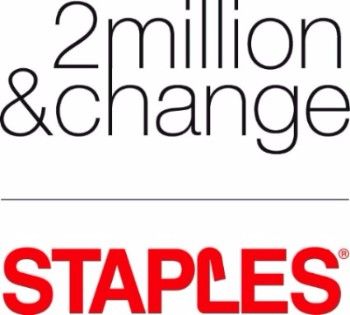 The Boys & Girls Club of Greater Ventura has been awarded $1,000 by Staples Foundation, the private charitable arm of Staples, Inc., through a program called 2 Million & Change that allows Staples associates around the globe to direct more than $2 million in donations each year.
"Academic Success is one of our three main outcome focuses and we are so grateful to have been recommended by our local Staples for this award. This money will be used for homework and educational supplies to support our local youth in their endeavors to do well and be more confident in school." – Patti Birmingham, CEO
Created in 2012, the 2 Million & Change program is a philanthropic initiative which allows Staples associates around the world to direct funding to non-profit organizations focused on academic education or job skills. The program encourages local community engagement by awarding larger grants to organizations where associates are highly engaged in volunteering or fundraising – up to $25,000 per organization.
In 2015, Staples awarded more than $2.5 million in grants to 875 local organizations in support of education and job skills programs, including job readiness for homeless individuals, career exploration for high school students, academic scholarships, mentoring and more.
"For 30 years, Staples associates have been making a difference in their communities around the world," said John Burke, chief culture officer, Staples, Inc., "We're thrilled that the 2 Million & Change program lets our associate make an even greater impact on the organizations they are passionate about."
About Boys & Girls Club of Greater Ventura
Established in 1938, the Mission of the organization is "to provide a positive place for all youth, especially those who need us the most, and quality programs to help them become healthy, responsible, confident and productive members of our community." The Club serves over 2,000 youth 6-18 years of age annually from four sites located in the Ventura, Oak View and Saticoy communities. Programs support academic success, good character and citizenship, and healthy lifestyles. For more information, visit www.bgclubventura.org.
About Staples Community and Giving
Staples contributes to educational and job-related community efforts with a primary focus on disadvantaged youth, from literacy and mentoring to career skills development, through in-kind and monetary donations and grants from Staples Foundation, the private charitable arm of Staples, Inc. Through its community and giving efforts, Staples has helped thousands of organizations in 26 countries. For more information, visit www staples com/community